It was hard getting out of bed at 5am again.  My room shared a bathroom, one of those that had a door accessing it from each room, with a four bed dorm, occupied by two Argentine couples, who returned late from partying.  I'm not sure if they realized that someone was sleeping on the other side of the door, or if they did and just didn't care.  Probably just didn't care, as there are signs on both doors in English and Spanish reminding you to unlock the door for your neighbors.  I went to the bathroom around 3am, and saw that they had used the entire roll and a half of toilet paper that had been in the bathroom at 9pm. To do what, I'm not sure.  You aren't supposed to throw used toilet paper in the toilet in Central America.  There are signs telling you to throw it in the bin so the bin was piled high with wasted paper.  Without digging around, either someone had been bleeding, or more likely, it had be used to apply makeup.  I carry a small supply of my own TP so I was okay.  I noticed one of them had left an Iphone plugged into a wall socket, balanced on the edge of the sink.  In a petty gesture, I loosened the plug so it stopped charging.  I also left their bathroom door locked from the inside.  I stand by my actions.

I caught a taxi on the Pan American highway for the one kilometer ride north to the gas station.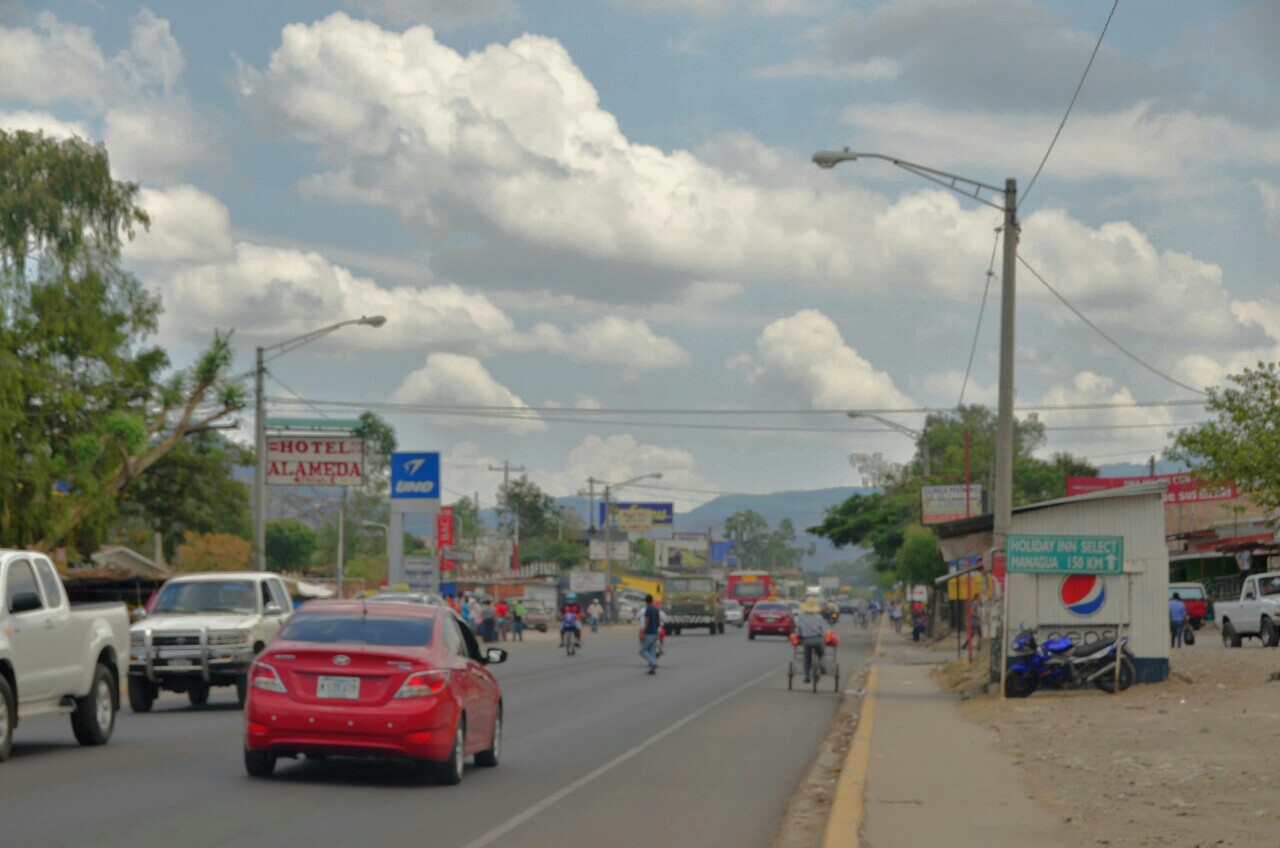 I went into the minimart to buy a Coke for the caffeine.  They were running the previous days reciepts, so I waited in line for 15 minutes.  I asked the woman at the register if this is where TicaBus stopped, and she said, yes, it passes by here. Confirm, Confirm.  I took a spot on the curb to wait and wake up.


Traffic passed by in both directions, semis, pick-ups full of people hitching rides on the way to work.  I could take this highway all the way to Alaska to the North, or to Darien's Gap in Panama to the south, and after a short flight, on to the bottom of Argentina.  Men and boys rode by on bikes.  Two destitute men asked me for money, and I handed them my last Nicaraguan coins, about a $1, as there was no way any money changer would take those.
As it approached 7:10am, I started to worry.  I was pretty sure the guy had told me 6:30am so I arrived early, and that the bus came at 7am.  I took out my phone and checked the driving time from Managua, where the bus originated at 5am, and it showed two hours.  So it was probably just running late. At 7:20am, it showed up, and I flagged it down. The assistant checked my ticket and put my backpack in the luggage bin under the bus.  I boarded and looked for my seat.  Someone was sleeping in it.  I figured everyone that boarded in Managua figured no one else was boarding and spread out.  There was an empty row toward the back, so I headed there, since I knew there were no more stops until San Salvador.
It was a nice bus.  The seats were comfortable and reclined, and the air-conditioning was set at an acceptable level.  The television volume was loud enough to hear but not so loud you couldn't drown it out with headphones or earplugs.  The assistant came by and handed me all the immigration forms I needed to go from Nicaragua to Honduras and Honduras to El Salvador, and after I filled them out, collected them along with my passport.
We reached the border with Honduras two-and-a-half hours later. We deboarded the bus at 9:45am and sought out shade while we waited for the formalities to be taken care of.  Women sold coffee and bags of fried pastries, so I bought a coffee and a bag and sat down on a curb to wait.  I gave my leftover change to a one-legged man on crutches.  I was feeling generous.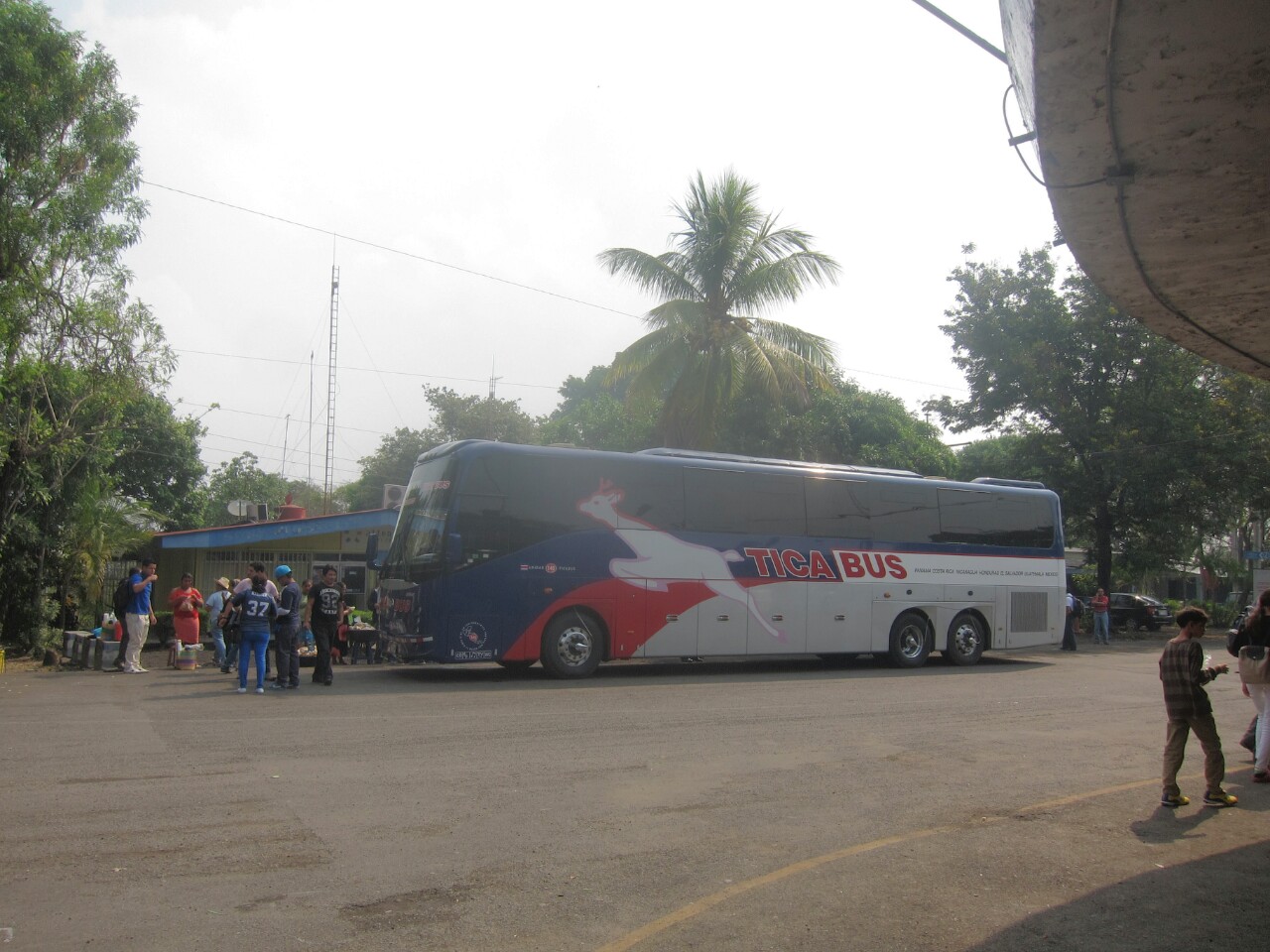 Half an hour later, we got back on the bus, drove 100 meters across the border, stopped and got of the bus again for Honduran immigration.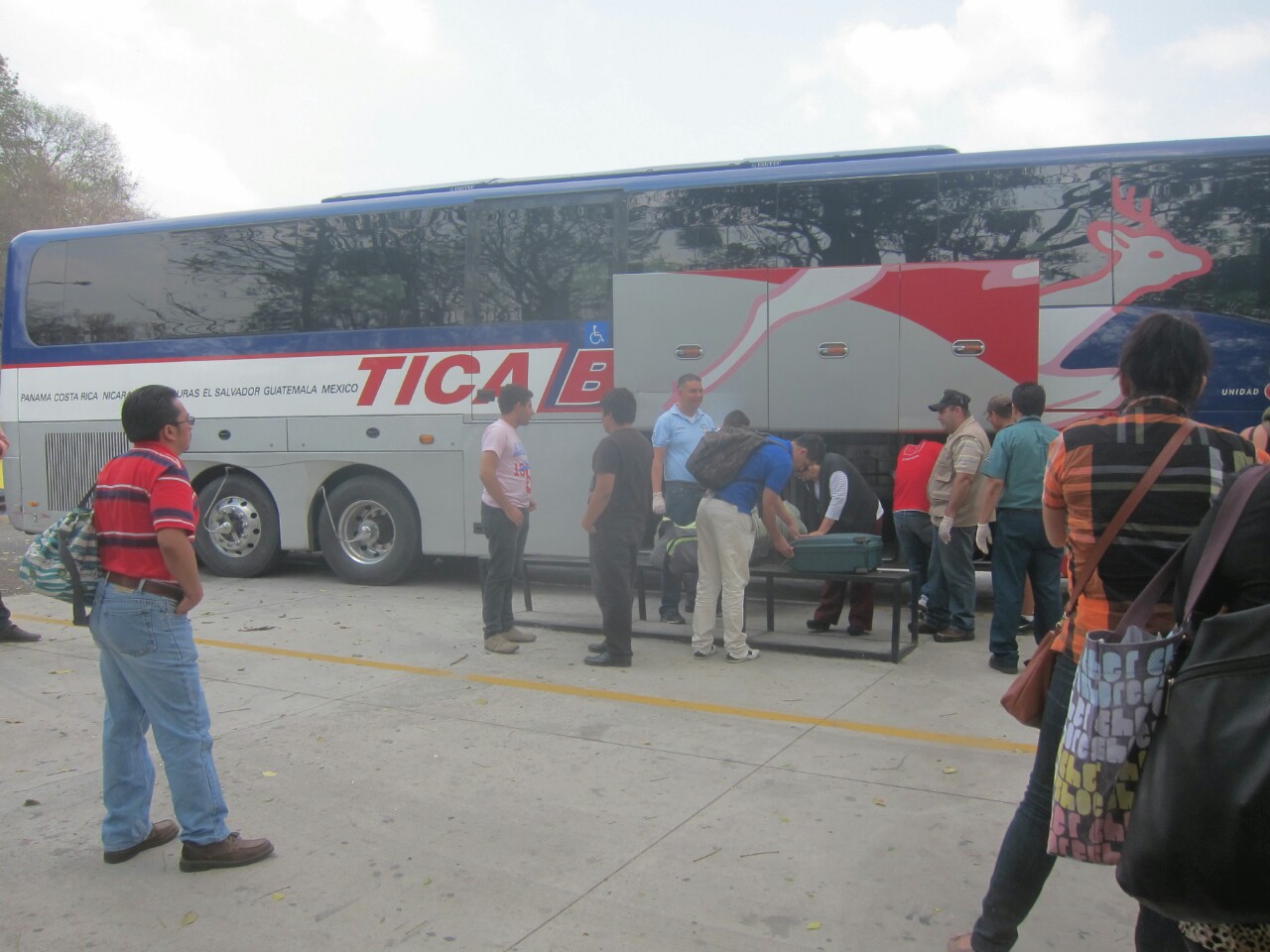 This time, all our bags were taken out and searched.  I looked for money changers in the meantime, and found none.  That meant I would be carrying $75 worth of Nicaraguan Cordobas back to the USA, to change in NYC.  As they put our bags back on the bus, they asked us which of the two hotels we planned on staying at in San Salvador, where it would make an overnight stop on its way to Tapachula, Mexico.  The San Benito was in suburban San Salvador, nicer and more expensive.  The San Carlos was in central San Salvador, cheaper but in a undesirable neighborhood. Mac had warned me against it based on his experience in fifteen years ago, but I had confirmation on travel forums that it had changed ownership since and was if not luxurious, they at least wouldn't be dragging a dead body out of the room I was about to occupy, as had happened to Mac.  I didn't plan on spending the night in San Salvador, instead hopping a taxi and then a bus to Suchitoto, 24 miles outside the city, so I told them the San Carlos. An American with dreadlocks stared blankly as his options were explained to him. He didn't speak a work of Spanish.  As he walked away, I heard the assistant say to the driver "If you don't speak Spanish, why bother coming?"
The corner of Honduras I saw was spectacular, ascending and descending through mountains to the hot plains.  I wanted to sleep but was captivated by the scenery.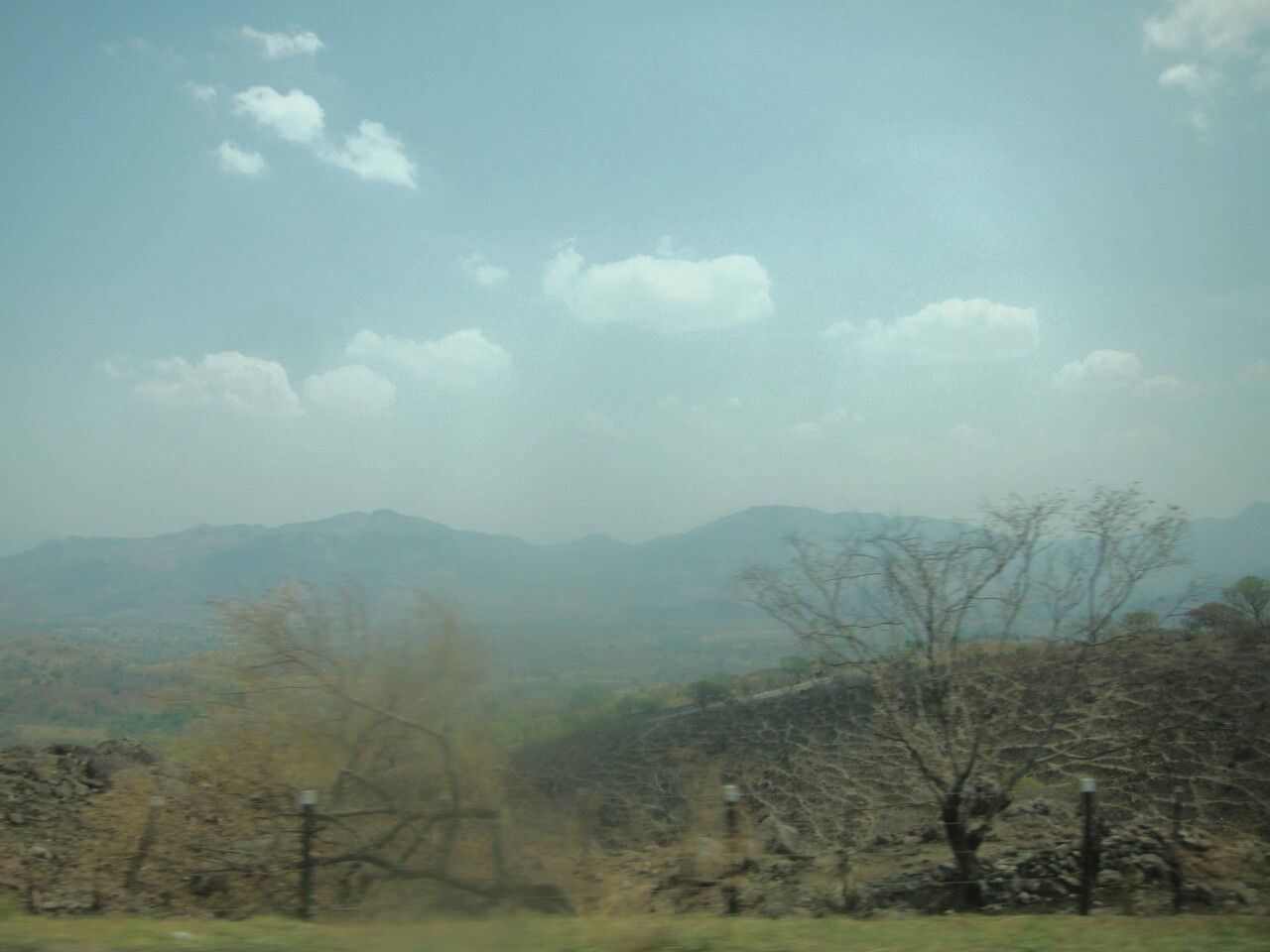 We reached the El Salvador border at 1pm. We didn't have to deboard this time. A man came on board and checked our names and passports against the manifest.  We drove across into El Salvador and a drug sniffing dog went down the aisle.  The whole process took a hour.
Twenty minutes later we stopped at a gas station for the lunch break. It was a gas station buffet. I got what I hoped were buffalo wings, but turned out to be just small greasy pieces of fried chicken. It was strange to be using dollars again, which El Salvador has taken as their national currency.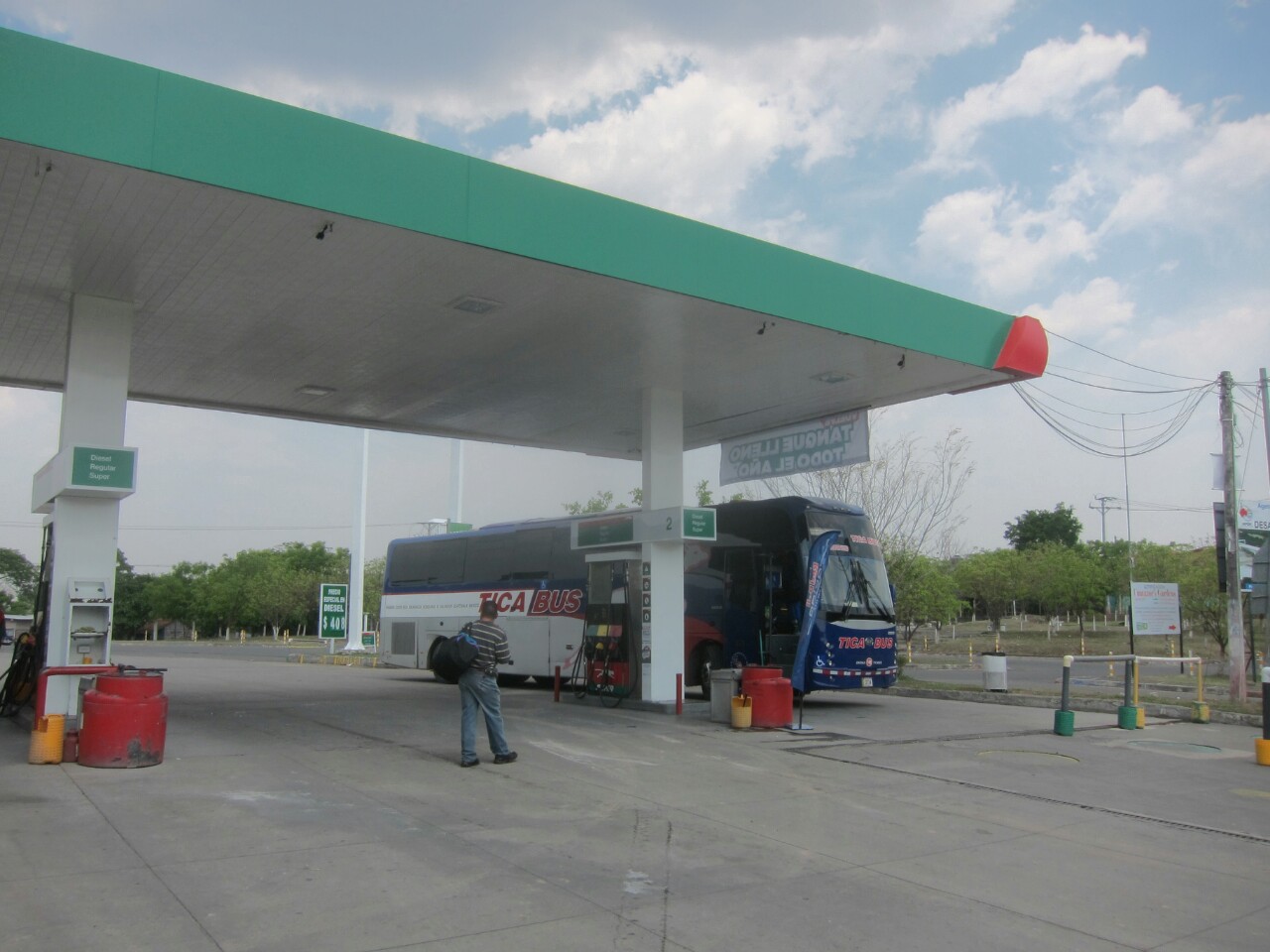 I had been hoping to arrive in San Salvador by 4pm, but as I watched the kilometer markers tick down, I realized that wasn't going to happen.  It was surely going to closer to 5:30pm. It would take about 2 hours to get to Suchitoto from San Salvador, it gets dark by 7pm and I like to avoid arriving new places at night.  I considered my options.  I could stay at the San Carlos, shut in my room from the time we arrived till the time in the morning when I woke up and found a taxi to take me to the bus terminal; I could take a taxi to another hotel that had been recommended to me in a slightly nicer part of the city, and take a taxi from there in the morning; or I could just make a run for Suchitoto, whatever time I arrived. It was supposed to be a small, upscale colonial town that San Salvadorans visited on weekends for it's galleries and cool mountain air. I'd probably be safe getting a few blocks to a hotel there.
It was 5:15pm when we made our first stop at the San Benito,  and I looked longingly out the window as hotel staff greeted the guests with cans of Sprite.  The streets were leafy,  and I could see a Dennys and a Wendys down the street.  Still unsure if I wanted to arrive in Suchitoto in the dark, I considered getting off there, and putting the assistant through the trouble of digging my bag out of the San Carlos bin.
I stayed on the bus, and 15 minutes later we were at the San Carlos.  The neighborhood wasn't grim, but any store of any consequence had a man with a pump shotgun standing our front as security.  I didn't see many food options, and it was going to be dusk soon, and all I had read said this neighborhood was a no-go zone after dark.  There were two taxis waiting at the hotel when we arrived, so I grabbed my bag, passed through the lobby, and took a $5, five minute ride the the bus terminal.  Bus number 209 was waiting, so I hopped on and it left fifteen minutes later.  Evening traffic was terrible, and we stopped often to let more people on as the bus got packed, and at every stop a parade of touts got on and walked down the aisle selling chocolates, a bag of ten bananas for $1, a bag of seven apples for $1, baggies of plantain chips spiced with picante for "un quarro" (how Salvadorans say 'quarter") bags of water, bags of soda; the monotone call of their voices became a pleasant white noise almost drowning on the sound of horns and the clunking diesel engine of the bus.  I was hungry, and tempted by the bananas, the only 'safe' food as I would be pealing it myself and wouldn't have to worry about bacteria, but how could I eat ten bananas?  Sure, if I ate two or three I'd get my money's worth, but I couldn't bear the waste of the others.
Despite the traffic, we arrived in Suchitoto on schedule.  I had no idea where to get off, and as the bus emptied, the ayudante asked me where I was going.  I told him the name of the hotel I was going to try first, and he told me to get off here, take a right, go a block, take a left, and the Posada Altavista would be a block up.  They had a room, for a rather steep $29, but I wasn't going wandering around at 8pm searching for anothing place.  The room was nice, and had air-conditioning.  I hadn't used air-conditioning in five weeks, since my first week in Costa Rica.
I went out to find dinner.  The town was quiet on a Sunday night, but there were two pupuserias open facing the plaza, and one sit-down restaruant.  After looking at the menu, and calculatiing the amount of money I'd spent that day on the bus ticket, border fees, the taxi, another bus, lunch, and the hotel, I decided on the pupuseria.  I got a hamburger and two frijole and queso pupusa and a 750ml beer.  I was hungry, and pupusas are cheap so I got another.  The total ran to $3.25.
After dinner I stood on the roof terrace of the Posada Altavista and smoked one of my Masaya cigars, pleased with my decision to bail on San Salvador.  The stars were out, and I could hear crickets.